New Vocal Music Collective
Melos is a women's collective working in the field of new vocal music. Performing works by living composers and sound artists, the collective seeks to create a space for practices of reduced and experimental music. Performing in variously sized groups – from solo to choir, the collective presented programs together with creators such as Jacob Kirkegaard, Klaus Lang, Anton Lukoszevieze, Arturas Bumšteinas and others.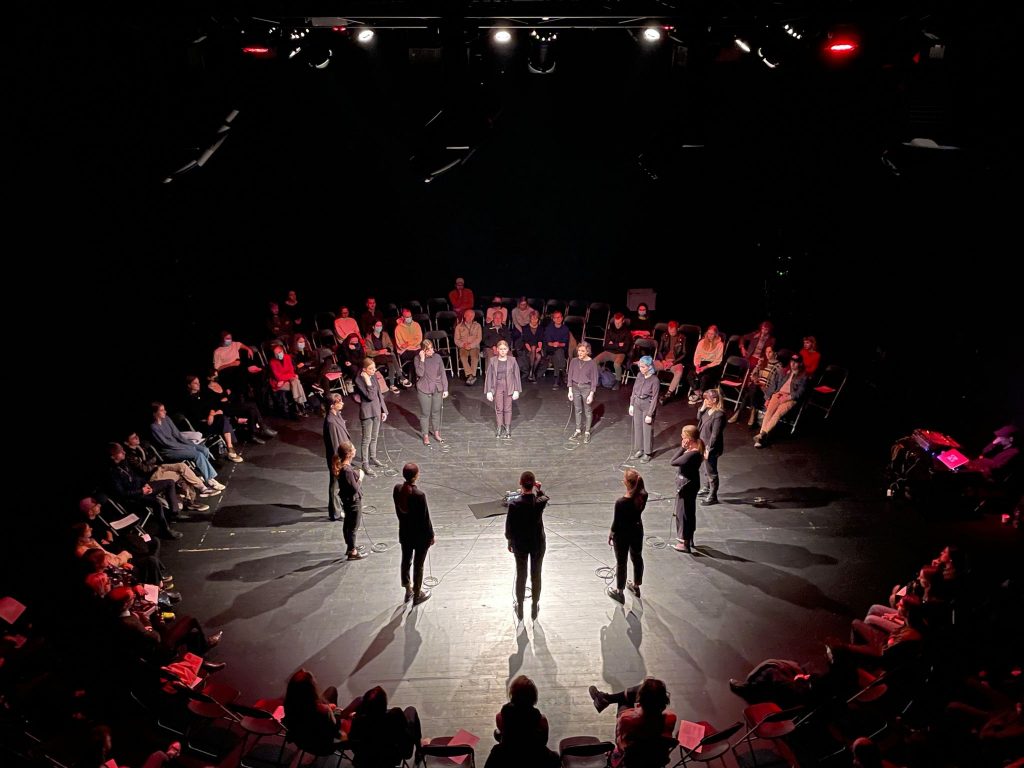 PROFESSIONAL FEMALE VOCAL ENSEMBLE
WORKING CLOSELY WITH COMPOSERS AND SOUND ARTISTS
PERFORMS REDUCED AND EXPERIMENTAL MUSIC
2016: composer Juta Pranulytė (artistic director) &  conductor Dalia Krapavickaitė (music director) found Melos female choir. First concert at the Church of the Assumption in Vilnius of newly commissioned experimental sacred works with invited conductor Jolita Vaitkevičienė.
2018 – 2019: music director – Erika Žilinskaitė. Choir changes to an ensemble of 8 female singers.
2018 – 2020: collaboration projects with composer Rytis Mažulis. Release of debut album Minimal Voices.
2020 – 2021: music director – Karolina Macytė.
2022 – now: music director – Karolina Ramonė. First edition of Melos residence program.
2023: release of albums Monochrome and Eskhatos.
current curatorial team:
artistic director: Juta Pranulytė
music director: Karolina Ramonė  
I am a choir conductor and a singer. I have a master's degree in choir conducting, but I also love to delve into the processes of creating contemporary vocal music, as well as actively sing in various ensembles. I am a part of the choir Jauna Muzika as well as ensembles Melos and Duodeco. Here at Melos I am very happy to be part of a group that collaborates exceptionally well with composers who create music in the spirit of modern times. Experimenting and finding new ways of expression through voice makes a lot of sense to me because I believe that this way we are forging a path forward for modern music.
After graduating from the Lithuanian Academy of Music and Theater, I have continued to take part in art education and curation. I write a blog about music and music education at macyteka.lt. I am the head of the media section at many contemporary music festivals in Lithuania and I am also running communications for Melos. For me, singing in Melos is an invaluable experience. It supports me in the process of learning about different vocal practices and helps me to expand my understanding of the possibilities of the human voice.
I am a composer, but also a co-founder and curator of Melos collective. I am currently based in Austria, where I study and work those long composing and emailing hours behind my desk. Both my compositional and curatorial practices are focused on voice: I search for new ways to use voice as a medium; for example, I have recently worked with voice recordings and used it as an inspiration for various compositional aspects. In the curatorial work, I aim to employ the magic powers of Melos to co-create with the most exciting and innovative artists of today.
I graduated from the Lithuanian Academy of Music and Theater with a degree in choir conducting. Here I was especially fascinated by the social aspect of art – the relationship between the team and the leader, and the relationship between the team members, both nourished by the art. I sing in various vocal ensembles such as Melos, choir Brevis, and others, as well as play organ in the church. I never thought that contemporary music could be so diverse and interesting. With every new project or performance, I discover something new, and unexplored. That is one of the reasons why I am in Melos. The girls and I are constantly developing, learning together, and sharing our experiences, this way forming a great medium for realizing our skills and potential.
I am a choral conductor, singer, and music teacher, working on various artistic projects. I have achieved classical music background while singing in choirs such as Aidija, VILNIUS State Choir, EuropaChoirAkademie, and others. In recent years I have been focusing on contemporary and electronic music, and also the relationship between choral singing and theater improvisation. I have found the music studio MuMok, where I teach singing in vocal ensembles using extended voice, theater elements, and music therapy. For me, Melos is a place to grow, develop extended vocal techniques, and find joy in preparing new musical pieces. Meeting and collaborating with professional sound artists and composers gives me great enthusiasm to immerse myself in contemporary music.
I have a bachelor's degree in choir conducting, but I prefer singing so I do that in various vocal collectives, such as Vilnius City Municipal Choir Jauna Muzika, ensembles Melos and Duodeco. I also work as a music teacher in Vilnius Sholom Aleichem ORT High School, where I am the leader of the children choir Simcha. Being a part of Melos for me means being in a strong community, in which people are connected through the need of fulfilling their creative ideas. Performing contemporary and modern music, as well as collaborating with today's composers is always interesting and exciting, as it is never the same. It always brings new themes to think of.
I have started my musical path with jazz music, being drawn into the exploration of the voice through improvisation. I continued to further explore the capabilities of the human voice focusing on body movement and extended vocal techniques. This eventually brought me to the field of contemporary experimental and electronic music. I have recently completed a master's in Composition and Performance of Electronic Music, continuing to delve into the voice through the means of technology and also learning the secrets of contemporary vocal music at Melos ensemble. Melos is a place where I can grow both as a performer and a composer, which allows me to discover the beauty of modern music every day and share those discoveries with like-minded people.
I am a singer and a conductor, interested in both classical and experimental vocal music. I work at various vocal ensembles, such as Melos, Duodeco, Vilnius Municipality Choir Jauna Muzika. The knowledge that I gain through the performance I also use at the school, where I teach music subjects and pass it on to young musicians. While singing in Melos ensemble, I appreciate the opportunity to get to know many different contemporary artists and to perform modern music. Melos is the place where I can grow in the field of contemporary music, which opens up great perspectives for me as a performer whilst being a part of an inspiring collective.
Music and singing have always been and are for me a way to rest, unload, and express myself. I have degrees in both musicology and economics, but singing was always a big part of my life. At the moment I sing in ensembles such as Friendly Projects, choir BelCanto, and of course Melos. I'm curious about how flexible the human voice is, and Melos is a great place to explore its limitlessness. I love contemporary music because it's unique, allowing you to try out the undiscovered possibilities of voice and sound. It's like a challenge that always encourages you to try something new and to go further.
I am a singer and choir conductor, currently studying Gregorian chant at the Pontifical Institute of Sacred Music in Rome. I have been working on developing old sacred music in Lithuania for more than 5 years. My main area of interest is the search for a living tradition in ancient sacred music and I mainly explore these ideas through various music projects, such as working with the GŠ Ensemble, which I founded in 2012.